Salymbekov Medical University Kyrgyzstan
Established in 2019, The Salymbekov University Institution, is a direct continuation of previously launched educational projects of the Askar Salymbekov Foundation, from 2012, which identified the most important areas for stimulating the development of human resources, education, and science, and therefore the formation of a replacement generation of enlightened youth. The Salymbekov Medical University in Kyrgyzstan is equipped with modern and innovative medical equipment, modern and impressive buildings, and a highly competitive medical faculty with medical education and experience and fluent in English. Salymbekov University is an open-wide international university, not just for domestic students but also for foreign students.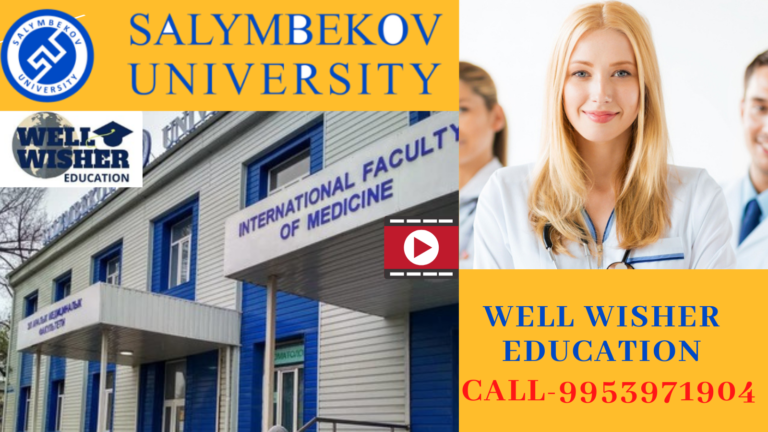 The MBBS course is taught by international medical faculties with practical studies. Clinical disciplines and practical seminars will be held in specially equipped classes with human dummies and medical tools such as microscopes, chemicals, and physics equipment.
Salymbekov University has at its disposal a functioning multidisciplinary medical centre for laser medicine, LLC Clinic Lazmed, which has the appropriate medical equipment and provides medical services in the following medical profiles:
Admission Process, Fees in Salymbekov Medical University
Issues at Kyrgyzstan's Salymbekov Medical University admission letter normally takes 3-5 working days, and after the admission confirmation letter, students need to pay a fee for the Visa Invitation Letter by the Ministry of Foreign Affairs of Kyrgyzstan, which normally takes 20-30 days. To ensure Salymbekov medical admission to Kyrgyzstan, you need to pay the application fees and submit the relevant documents. Salymbekov University accepts international students for its MBBS/MD degree programme twice a year, with a fall and spring intake.
Documents Salymbekov Medical University Kyrgyzstan
Scanned copy NEET scorecard
Scanned copy of 10th marks sheet and certificate
Scanned copy of 12th marks sheet and certificate
Scanned copy of the first and the last page of the passport.
HIV test report with sign & stamp
4 Passport size color photograph with white background
Salymbekov Medical Faculty for five years. The MBBS/MD Program is comprised of 10 semesters. Salymbekov medical university fee structure for first-semester fee includes tuition fee, management charges, airport pickup, etc., then tuition fee in USD is required for each semester.
Salymbekov Medical University Kyrgyzstan MBBS Fee Structure
| SALYMBEKOV MEDICAL UNIVERSITY | TUITION FEE / YEAR | HOSTEL FEE / YEAR | TOTAL FEES FOR ONE YEAR |
| --- | --- | --- | --- |
| 1st Year | 3060 US Dollars (214,000 Rupees) | 600US Dollars (42,000 Rupees) | 3660 US Dollars (2,56,000 Rupees) |
| 2nd – 5 Years | 2660 US Dollars/yr. (186,000 Rupees) | 600 US Dollars/yr. (42,000 Rupees) | 3260 US Dollars/yr. (228,000 Rupees) |
1 USD = 70 rupees (Subject to change as per exchange rates)
Tuition Fees – Includes Examination Fee, Study Materials, Library Charge
Hostel Fee – It includes accommodation, bedding, furniture, 24 hours of electricity, 24 hours of gas supply in the separate kitchen, 24 hours of hot and cold water supply, and a room heating system.
Food Fees – 130 US Dollars/month = RS 9000 Per Month
If you are also looking to leverage the benefit of matured experience in medicinal education in Kyrgyzstan, then come and speak to our admission consultants.